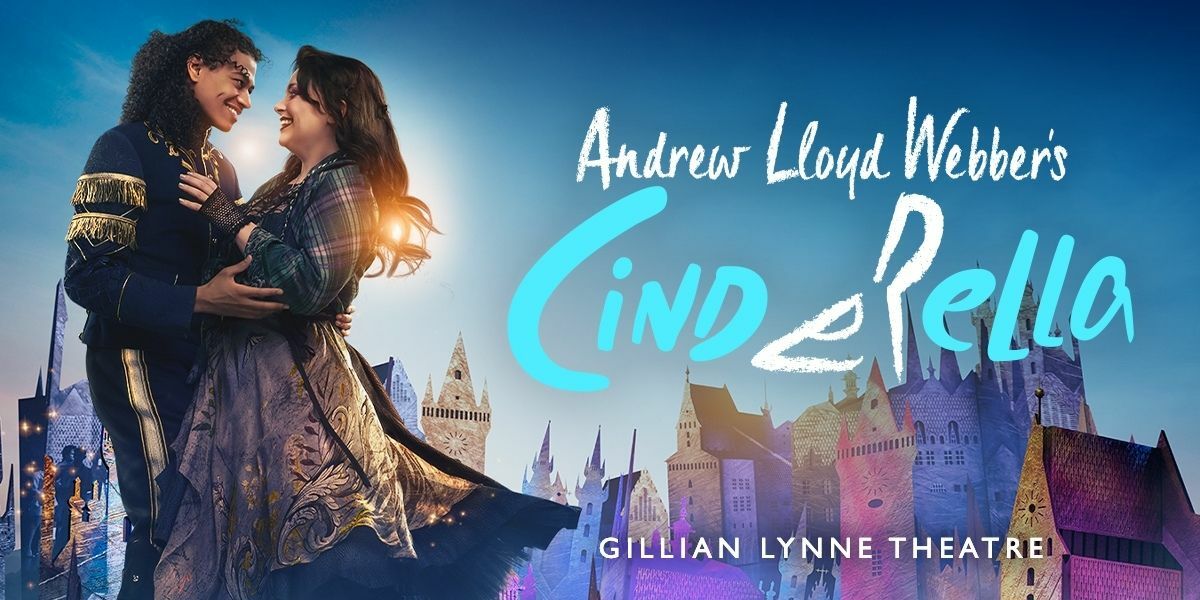 A new Cinderella production by Andrew Lloyd Webber is now open at the Gillian Lynne Theatre
Welcome to Belleville! The most aggressively picturesque town in the history of the world populated exclusively with gorgeous townsfolk. The only person steadfastly refusing to live in the fairy tale is Cinderella, loud-mouthed and dripping with disdain. Her oldest and only friend, Prince Sebastian, has suddenly become heir to the throne. This news provokes an unexpected spark into their relationship. With the Queen suddenly announcing a Royal Wedding all looks lost for the blossoming romance until Cinderella meets The Godmother who can fix anything. With an original story and book by 2021 Oscar winner EMERALD FENNELL(Promising Young Woman) and lyrics by Tony and Olivier award winner DAVID ZIPPEL (City of Angels). LAURENCE CONNOR directs (Joseph and the Amazing Technicolor Dreamcoat, School of Rock) with choreography by JOANN M.HUNTER
Welcome to Belleville! The most aggressively picturesque town in the history of the world populated exclusively with gorgeous townsfolk. The only person steadfastly refusing to live in the fairy tale is Cinderella, loud-mouthed and dripping with disdain. Her oldest and only friend, Prince Sebastian, has suddenly become heir to the throne. This news provokes an unexpected spark into their relationship. With the Queen suddenly announcing a Royal Wedding all looks lost for the blossoming romance until Cinderella meets The Godmother who can fix anything. With an original story and book by 2021 Oscar winner EMERALD FENNELL(Promising Young Woman) and lyrics by Tony and Olivier award winner DAVID ZIPPEL (City of Angels). LAURENCE CONNOR directs (Joseph and the Amazing Technicolor Dreamcoat, School of Rock) with choreography by JOANN M.HUNTER
Age restriction
This production is recommended for ages 6+. Under 4s will not be admitted. All persons 16 of age or younger must be accompanied by an adult and cannot be seated alone in the auditorium. All patrons, regardless of age, must have their own ticket.
Running time
2 hours & 40 minutes (including 20 min interval)
Performance dates
25 June 2021 - 12 June 2022
Content
Contains strong language. Contains scenes of sexual nature. Despite the Queen's tight laws in Belleville, please be advised that some swear words and adult themes are found in Cinderella.
Special notes
We aren't able to admit any children under the age of 4 and every customer must have their own ticket. To help us make sure everyone enjoys the show, your little ones need to be able to sit in their own seat without any assistance.
We recommend all audience members wear a face covering throughout their visit, but this is a personal choice.
The appearance of any actor cannot be guaranteed and it does not constitute as a material change.
On Tuesday and Wednesday evening performances, the role of Cinderella will be played by Georgina Onuorah.
Carrie Hope Fletcher will not be performing on 22-24 March, 19-24 April and 20-22 May [subject to change]. Georgina Onuorah will be playing the part of Cinderella in these performances.
Customer Reviews
212 reviews
4.6
Grace
Incredible performance, sad to see it go!
Helen Brown
What an absolutely fantastic show, all the cast were outstanding.
Mrs Susan Redcliffe
Miss Carrie Hope Fletcher and Mr Ivano Turco we're absolutely stunning! I loved every second of my four viewings! I have never seen a better performance ever before. XX Ps - I tried to include a video, but unfortunately it was too long to include, sorry. I wish that I could come again to see it. The theatre is fabulous too.
Hayley Ross
The most amazing show such a shame it isn't continuing
Shawn Muma
It was awesome!
Jill Robinson
Absolutely loved it! Such a shame that it has to close.
Alex Taylor
Cinderella for a modern age, truly inspiring, I laughed and cried! The cast were flawless! Bravo
Val Mann
Wow what a great cast performance
Jasmine Wickens
Splendid show that did not deserve to be closed in such a cruel way. Cast are all spectacular!
Joanna Simpson
Cinderella was wonderful - beautiful music, great modern take on the story and a spectacularly talented cast. Such a shame that it is closing so early. The whole team deserve so much more.
Tracey White
Excellent show! Really enjoyed it, the atmosphere was amazing!
SLS
Fantastic staging, top notch performers in every respect and a great modern take on a classic story. 10/10! Such a shame that it is closing, I can't believe it!
Gillian Lynne Theatre Safety Policy
Health & safety measures
All staff wearing masks
All visitors asked to wear masks
Regular visible cleaning of all touchable surfaces before and after performances
Signage regarding social distancing etiquette
Paperless or print at home tickets
Availability of hand sanitiser
Visitor measures
Cash free venue - contactless payments only